Have You Met My Old Friends?
The best mirror is an old friend. 
~ Peter Nivio Zarlenga
My classmates from intermediate school are having a reunion this month in New York City. Unfortunately, I will not be able to attend but following the planning and everyone involved brought back great memories.  It would have been fun to be reunited with all of them.  How many of you have had the same experience?
I reconnected with two other old friends recently during a particularly trying week.  P.A.T. comes and goes in my life periodically and seems to appear exactly when I need to see her.  P.A.T. is actually an acronym for Patience And Tolerance.  She knows when I begin to get caught up with other's behavior and shows up with lessons to learn.  P.A.T. usually comes with another friend whose name is A.A.A. – this has nothing to do with cars.  LOL! Her acronym stands for Allowance And Acceptance.  When I look and dwell on people, places and things which are outside me, I lose sight of my own perfection and the wholeness and completeness of who I am.  When I accept who I am exactly where I am, I can begin to allow others to be in exactly the place where they are.  It was perfect timing to see both of these friends again and begin to shift to a more loving and peaceful place within myself.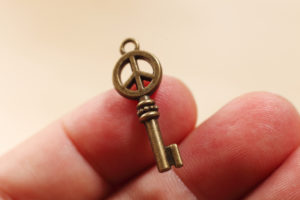 Going through the pain of divorce or relationship loss can be the most trying and difficult times in our life.  This is a perfect opportunity to be reconnected with friends who support us and know our Highest Good.  We all have P.A.T.'s and A.A.A.'s as friends in our life and can call on them whenever they are needed.  Knowing and remembering Patience And Tolerance reunites us with Allowing And Acceptance to remind us who we are and who we are becoming.  This is the path to healing our pain and discovering the peaceful life that is ours to embrace.
!n-joy!  Namaste
Anthony J. Diaz
The Peace Maker