A.R.E. You Ready? Part Two
A.R.E. You Ready? Part Two
Last week we explored the 1st part of our question A.R.E. You Ready?  If you missed our discussion of Accept and Allow, click here.  The next part is Release and Receive which is sort of the yin and yang of life.  Letting go and letting in is the cycle of our existence and how we experience each of these paints the tapestry of our reality.  If there are people, places and things in your life that do not reflect who you truly are, join the human race.  LOL!  The question is not if we experience this but how we respond when it shows up. We have a choice…we can keep on doing what we're doing…How's that working for ya? We can also choose to release that which does not serve us.  When we make this decision, we create a space in our life to Allow in that which does serves us.
"Nature abhors a vacuum" ~ Aristotle.
What this means is that nature requires every space to be filled with something.  That something can be whatever aligns with our Truth. Once you Release that which doesn't serve who you are, you have an opportunity to fill the emptiness with all the good that you desire and most importantly deserve. This is also known as being able to Receive.  As with acceptance and allowing, release is also more of a mindset while receiving is more directive.   When we are open to receive all that the Good that is available to use, we instruct the Universe to provide in a way that serves us.  We've created the receptive environment by going within to affirmatively release that in our life which doesn't create the positive outcome we desire.  Now we can be open to allowing into our life those experiences which support our Highest Good.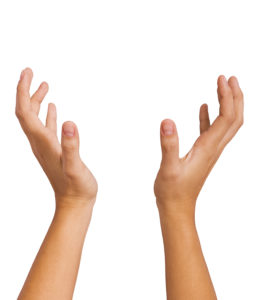 The ability to release and receive is essential to those healing from the pain of divorce or any relationship challenge, conflict or loss. Releasing the hurt that you've experienced is not easy but it doesn't have to be hard. You may recognize the quote "Pain is inevitable but Suffering is optional". Let's try this intention which is actually more accurate – "Pain is optional and Suffering is not necessary".  By releasing the hurt that doesn't serve you, you may begin to heal the pain without suffering and receive the Good that's been waiting for space to become available.  This is the beauty of Release and Receive.
Next week we will explore Embrace & Embody – the 3rd and final part of our question A.R.E. You Ready?
If you would like to explore what may be holding you back from a life filled with more happiness, joy and peace, please schedule a Complimentary Discovery Session with me with my online calendar.  I invite you to download my free eBook on how to navigate through conflict as a gift to you.  Click on "Moving Consciously Through Conflict" and begin your path to move from the inner pain of conflict to the inner and outer peace that awaits you.
!n-joy!  Namaste
Anthony Diaz RScP
The Peacemaker
Guiding Others from Pain to Peace